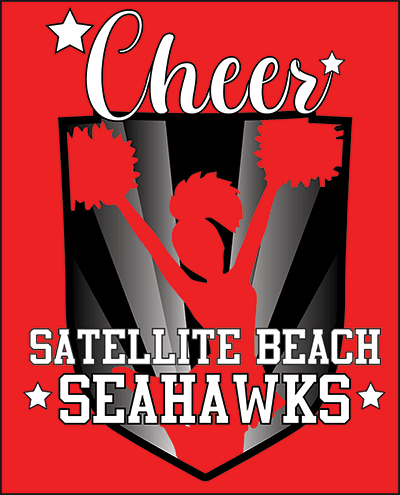 Cheer Information
1. What does the registration cover?
Cheer uniform rental, poms, game-day bow, practice shirt and administrative fees. Fundraising will be expected and required to keep additional costs to a minimum.

2. When does cheer start and what is the length of the season?
Tackle cheer begins August 1. The season runs from August 1 through the first week of December.

3. When and where are practices and games?
Practice locations will be provided to parents prior to the start of the season. Practices are Tuesday & Thursdays 6-7:30/8:00 (this is subject to change). If practice is scheduled to be outdoors, times and locations and/or cancellations due to inclement weather are determined by the weather committee. Games will be on Saturdays. We will have 4 home games at the Zac Sealey field and 4 away games. Our league plays from Palm Bay to Flagler Beach.
4. What squad will my child be on?

Division/Age
Junior Tiny Mite (JTM) - 3,4
Tiny Mite (TM) - 5,6,7
Mitey Mite (MM) - 7,8,9
Jr. Pee Wee (JPW) - 8,9,10,11
Pee Wee (PW) - 9,10,11,12
Jr. Varsity (JV) - 10,11,12,13
Varsity (V) - 12,13,14,15,16
Bantam (B) - 14,15,16,17
*

Please note that teams will be structured and filled once registration closes June 24th. While we try to work with families so siblings can be at the same time (football and cheer) the age ranges are enforced by Pop Warner.


5. When are competitions?
Cheer competes in a local East Coast Competition at the Ocean Center in Daytona on October 23rd.


Tiny Mites and higher can advance (their squads placement at the ECC Comp determines this) to the Regional Competition,

which is at the Silver Spurs Arena

the weekend after Thanksgiving!


Nationals, held at the Orange County Convention Center, are the first week of December.
Advancing to the competitions is not optional and if the teams advance, it is a requirement to attend.
6. What is the Required Paperwork?
2021-2022 School Year Final Report Card (copy provided by athlete)
Copy of Birth Certificate. (Copy provided by athlete)
A pass-port style picture of the athlete with a white background. (Copy provided by athlete)
Pop Warner Physical & Medical Form signed by physician.(Must be the original)
Pop Warner Participant Contract & Parental Consent Form. (Must be original)
2022 Home School Form *if your child will be enrolled in home school September 1st 2022. (Must be original)


Additional Information


Benefits of Pop Warner Cheer




Code of Conduct
For the adults of the Seahawks organization we strive to follow our core values of Leadership, Integrity, Fortitude and Effort.

In order to provide the most consistent environment for our kids, we want all parents and coaches to read and understand the rules we are expected to abide by.

All participants are guided by the following code of conduct.

player code of conduct.pdf
coach code of conduct.pdf
parent code of conduct.pdf
If you are interested in joining our coaching program please email our Cheer Coordinator at cheer@sbyfca.com.