Satellite Beach Seahawks is a proud member of the East Coast Conference of Pop Warner Youth Football and Cheer.

The Pop Warner Mission: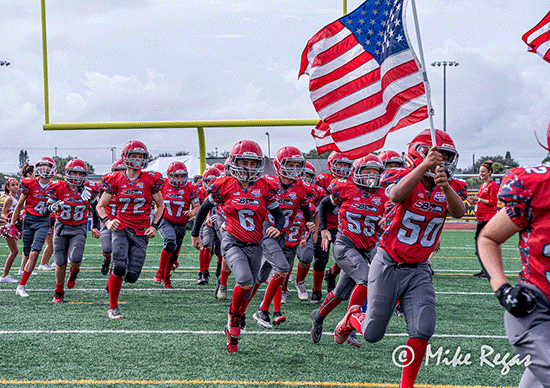 Through this active participation, Pop Warner programs teach fundamental values, skills and knowledge that young people will use throughout their lives.
Pop Warner seeks to provide fun athletic learning opportunities for children, while emphasizing the importance of academic success. Specifically, Pop Warner seeks to familiarize players and spirit participants with the fundamentals of football, cheerleading and dance. Pop Warner strives to inspire youth, regardless of race, creed or national origin, to practice the ideals of sportsmanship, scholarship and physical fitness as reflected in the life of the late Glenn Scobie "Pop" Warner.
Objectives:
To encourage and increase youth participation in football, cheerleading and dance.

To ensure a safer and positive playing environment for all participants.

To instill life-long values of teamwork, dedication and a superior work ethic in the classroom and on the playing field.
Positive Experiences:
Pop Warner programs have no tryouts or cutting of rosters.

Everyone participates under mandatory rules of play.

On-field coaching is allowed for younger age levels.

Individual awards are given only for academic excellence, not for on-field activities.
Safe Playing Environment: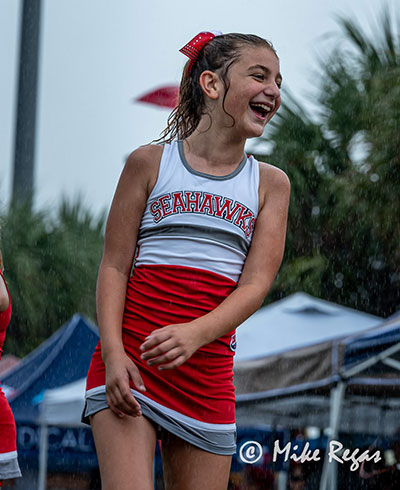 There are strict mandatory equipment requirements. Pop Warner provides Coaching Clinics and Risk Management Training. An enforced national rule book incorporates time-tested rules. A full-time executive staff supports all local associations and assists in sound policy creation. We take safety seriously. On fields across America, Pop Warner is making our game safer and better, while retaining what makes the sport so wonderful for young people. And we're doing the same for our young athletes in cheer and dance.

Pop Warner places value on safety measures that make a difference. That's why we have done things in football like reduce contact to 25% of practice time, eliminate kickoffs for our youngest divisions and require that any player who suffers a suspected head injury receive medical clearance from a concussion specialist before returning to play.

Giving our coaches the tools they need to teach the game the right way enhances those efforts. So we made USA Football's Heads Up Football training mandatory for all Pop Warner coaches because a well-educated coach is critical to a safer football experience. Similarly, we require our cheer coaches to take the YCADA training. And we're guided by an independent Medical Advisory Committee of neurosurgeons, sports medicine professionals, pediatricians and researchers.

We think sports like football, cheer and dance offer so much to young person, from a fun, physically active lifestyle and a sense of teamwork to valuable life lessons like perseverance and sacrifice. To make it possible for them to enjoy those experiences we will never stop working to try and make football, cheerleading and dance safer.


Satellite Beach Youth Football and Cheer Association is proud to offer NFL Flag to our community.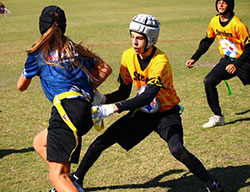 NFL Flag believes that sports have "the power to transform athletes and unite communities" and this has been exactly our experience. Partnering with the NFL helps to keep costs low while providing top of the line jerseys and equipment for our players. We are a co-ed league for all skill levels and ages 5-17y. NFL Flag Football is designed to be very low contact and very high fun!
Over the years the Seahawks organization has modified NFL flag rules after coaches asked for changes. That resulted in Seahawks rules being out of sync with national rules on some important details. Seahawks football and safety leaders concluded that reverting to national NFL flag rules would make game play safer and easier to understand.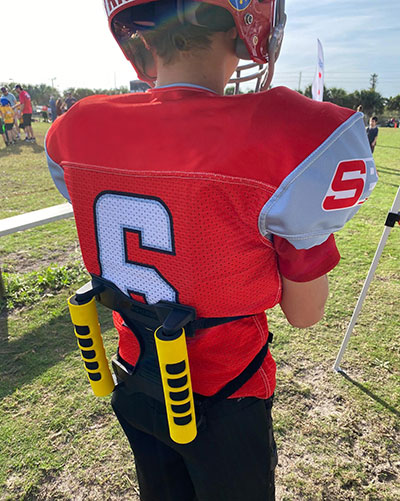 Spring Fusion Football
TackleBar Football is an ideal progression between flag football and tackle football. Football associations across America are now adopting TackleBar Football as a game format. It integrates seamlessly with programs, and requires no adjustments other than use of the TackleBar harness to keep contact at safer levels while providing players a real football experience. USA Football is recommending associations create a development model whereby players progress from no pads to eventual full contact as they move towards high school age. We believe TackleBar can be used as a great bridge to help associations serve that transition. TackleBar Football allows players to have the real football experience. Safer Contact. Strong Fundamentals. We and learn proper fundamentals in a safe and competitive atmosphere.